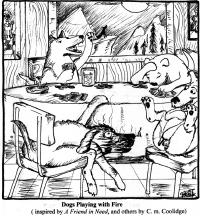 "Dogs Playing With Fire"
(Inspired by
A Friend In Need
, and others in the series by Coleridge)

This early piece from 2000 is still my favorite of all of my f-ARTjoke parodies.
I had to use it to inaugurate this new blog direction.
The concept behind f-ARTjoke is simple. I take a famous work of art,
or a famous artist's style, and create a parody of it with a theme of flatulence.
It's kind of a Low-Brow dig at Hi-Brow snootiness. I'm out to make art-snobs
regret having their noses in the air!
If you can't wait for me to post more of these here, you can go to my storefront
and buy a set of the f-ARTjoke mini-comics.
It comes with a Whoopie Cushion on which I'll hand-sketch a cartoon for you!
http://geocities.com/bent4toons/store.html